Veronica Browne Volunteer Reading Tutor in St Finians National School, Finglas
When Veronica was asked what made her decide to volunteer, she said
"I had recently retired, and I was looking for something to do and I wanted to do something with a little bit of meaning. A friend of mine told me about Barnardos and the minute she said it I thought this is brilliant, this Wizards of Words programme sounds perfect and I haven't looked back since, it is wonderful".
Karen Groome volunteers in the OASIS Programme
"This is not volunteering for altruism's sake, I have got much more out of this experience than I can ever hope to give back. I drive home every Monday and Wednesday evenings with a smile on my face. Who could ask for more?"
Volunteering for Barnardos at this point in my life seemed the natural thing to do now that my children are older.
Richard Davitt volunteers in the OASIS Programme
"Every day is different and the energy and fun exuding from the children is fantastic. I often feel like I am the ninth child in the room, having as much fun as the other 8 children."
The rewards in helping children grow, learn and develop their life skills are immeasurable, not to mention the fun I am having on the journey! 
---
Lisa Cummins, Playground Assistant Volunteer, Ballybeg Waterford
"What I really like about it is that everyone is friendly from the young people to the other members of staff. Going up every weekend and just spending time with the young people, seeing all the different personalities makes volunteering very rewarding.
For myself as a volunteer, I have gained a lot of confidence from being part of the team in Barnardos and it has encouraged me to be confident in my ability as part of that team.
I have also gained a huge amount of experience from the other members of staff and from working with the young people."
---
Joyce Walsh, After School Assistant Volunteer, Limerick
Joyce explained to us the reason why she decided to volunteer with Barnardos.
I decided to volunteer with Barnardos because it involves children and has a very positive feel. Barnardos are very involved with families and children, in particular, and I just like what they do.
---
Nora Bourke, Children Bereavement Service Helpline volunteer since 2004

"The title of one of the Barnardos' booklets is 'Young Children grieve too'. As a person involved in education, I have spent many years observing the faces of grieving children, children traumatised or in deep shock. In the light of this,
it was a dream come true to become a volunteer on the Bereavement Helpline
and thus enable these children receive support. What I like to see is that the children's needs are met in a lovely bright child friendly environment. As a volunteer I am more often inspired by the wonderful insight parents and grandparents have and their ability to seek help while they themselves are grieving. We, volunteers have our own support system too, which is unique to Barnardos. While we are frontline support givers, we feel the strength of the support team behind us. The serious nature of bereavement is brought into perspective by mindfulness and some light hearted gatherings among ourselves".
---
Cathy Wyer, Children Services Support Volunteer since 2012 with Barnardos Finglas Early Intervention Service
"Whilst you might be tired at the end of a session, you will certainly be energised by being involved."
It is so lovely to work alongside the children, supporting them in their development and learning.
---
Denis McCarthy, Reading Tutor volunteer, St Ultans Primary School since 2014 
"Since retiring it has structured my week and helping others has its own benefit, I'd say to anyone who's thinking of volunteering go for it, it's a win win situation for all concerned".
Philippa Jennings, Children Support Service Volunteer in the Carlow Family Support Service Parent and Toddler Group
Philippa told us why she applied to volunteer with Barnardos
"Following completion of a childcare course and at the time when my own children were starting school I decided to volunteer with Barnardos. Over the years we have cared for many parents and their children. We aim to provide a supportive and nurturing environment where families can find both practical and emotional support through sharing experiences. As volunteers we too are afforded the same care that is shared with the families"
---
Carl, National Collection Day Volunteer in Dublin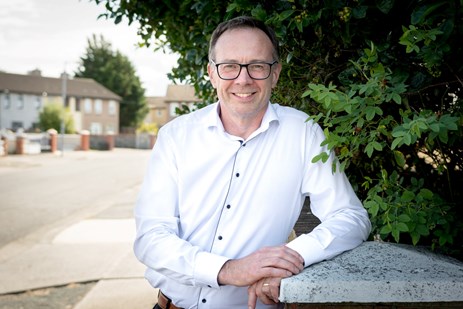 "Life gave me two lessons that changed me forever. The first one was three-and-a-half years ago. I was diagnosed with a potentially fatal illness. I faced the thought that I might not be around forever. I'd never really thought about it before. I mean, I know we are all going to die one day, but it seemed far off, so life brought it a little closer. It turned out, that the diagnosis was wrong. But by then, I was a different person. I had enough time to rethink my priorities in my life. I came to the conclusion that the most important things in life are love and helping others. The second lesson was when we lost our second child just a few hours after he was born. It was a tragic event. A loss that cannot be described in words… I could never get my head around any children suffering and it became one of the most terrifying thoughts after becoming a father. I thought it has to be my priority to help in any way I can. I was already regularly donating to Barnardos but I wanted to do more, so I signed up for their bucket-collection day. I had never done anything like this before. I have to say I was a bit nervous. Thinking about standing on the street for eight hours, trying to get people to donate. But after the first hour, I got more comfortable and soon it became an amazing social event. I would just say, "Hi!" or "Good morning!" And people would be like: "Hi! Oh is this for Barnardos?" It felt like everyone knows the work they do! Everyone knows how important it is and people stop by, donate and often stay for a chat. The time flies by. I've done it for three years now and I love every minute of it! People say volunteering is working for free, I would rather call it free therapy."
"I have a To-Do list for every day at work and the last thing on my list, for three and a half years now is: 'Do something nice for someone else today!' If you want to be happy, do something nice for someone else. It's that easy."