Roots of Empathy is an evidence-based programme delivered in primary school classrooms which has shown significant effect in reducing levels of aggression among school children by raising social-emotional competence and increasing empathy.
At the heart of the programme is a baby and parent who visit the classroom every three weeks during the school year. A trained Roots of Empathy instructor coaches the children to observe the baby's development and to label the baby's feelings. The baby is the 'teacher' in this experiential learning, while the instructor helps the children identify and reflect on their own feelings and the feelings of others. 
The Roots of Empathy instructor also visits before and after each family visit to prepare and reinforce teachings using a specialised lesson plan for each visit.
Research results from national and international evaluations of Roots of Empathy indicate significant reductions in aggression and increases in prosocial behaviours.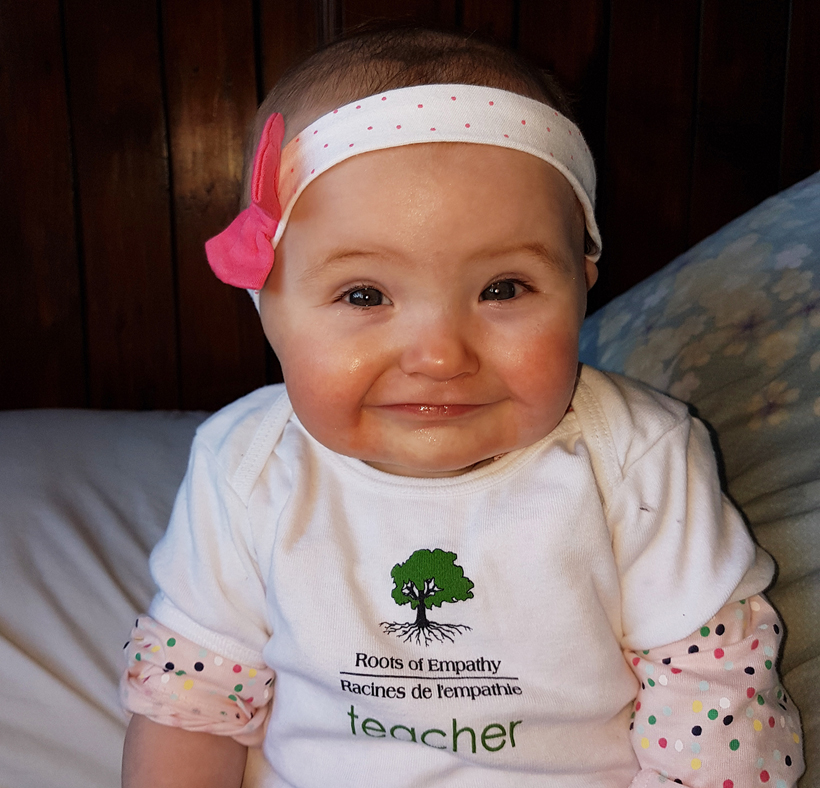 The Curriculum
Roots of Empathy primarily addresses the affective (feelings and emotions) side of the Social, Personal and Health Education (SPHE) curriculum. However, it is cross-curricular as it features strong links to maths, music, art, language and literature, and Social, Environmental and Scientific Education (SESE).
The Roots of Empathy curriculum is specialised to the learning outcomes of four different age ranges from junior infants to 6th class. There is a theme for every family visit, with nine themes covered and three visits per theme (pre-family visit, family visit, post-family visit).
How to get involved
If you are…
Interested in becoming a Roots of Empathy instructor or you know someone who would be interested (training of new instructors take place every September and applications are open from May every year) – more information.
Thinking of hosting a Roots of Empathy programme
Having a baby soon and wish to find out about how to become involved, or know of a family with a baby who would be 2-4 months of age at the start of the programme (typically September/October), and who may be interested in participating, please contact 

[email protected]

for more information on how you can become part of this wonderful programme.
We are looking for babies for our 2023/2024 programme.
Barnardos and Roots of Empathy
Barnardos was chosen as the lead agency to manage the delivery of Roots of Empathy in the Republic of Ireland.
Barnardos has been delivering Roots of Empathy since 2011 and is currently operating in classrooms across the country.
The programme is run in partnership with local primary schools and is widely supported by a range of agencies and projects at local level.
Volunteer instructors come from a wide variety of backgrounds: HSE, TUSLA, Springboard projects, school staff, school completion projects, youth services and Barnardos staff.
Roots of Empathy was founded in Canada in 1996 by Mary Gordon and is now offered in many different countries around the world. Mary Gordon is an internationally recognised educator, award-winning social entrepreneur, author, child advocate and parenting expert.
For more information about Roots of Empathy, including research, ethos and background, please visit www.rootsofempathy.org